"Meet Michael Cage" was first aired on Sunday March 15th 2015. Our Guest was Michael Cage, Broadcast Analyst, Oklahoma City Thunder.


Our topics included:
How he and his family are acclimating to OKC.
Significance of his prior TV analyst positions and how they helped prepare him for this job.
His primary responsibilities as TV analyst.
How his 15-year playing career in the NBA assists him in his work as analyst and benefit of having analysts with actual playing experience.
As rebounding champ in the league in 1988, how he accomplished 30 rebounds in one game.
Why some big guys are great rebounders and some every bit as big are not.
His thoughts about this season from the Thunder's perspective.
His thoughts on the rest of the season up to the playoffs – is the Thunder in jeopardy of not making the playoffs?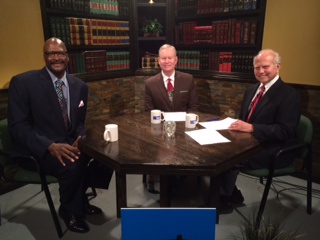 Michael Cage, Mick Cornett, Kent Meyers