"Tobacco and Cancer" was first aired on Sunday March 8th 2015. Our Guest was Donald Robert McCaffree, MD, OU Health Sciences Center.


Our topics included:
Discuss the Stephenson Cancer Center here in Oklahoma City.
What viewers should know about that Cancer Center and how it is unique.
His connection with the Cancer Center.
Activities going on in Oklahoma insofar as tobacco research.
Discuss initiatives in place today to reduce tobacco use in Oklahoma – recent American Journal of Preventive Medicine article.
Discuss TSET, what it is and how it works.
Results from the TSET organization.
His hope/prediction for cancer related to smoking in Oklahoma in the near term.
In the long term.
What Oklahomans can do individually to assist in the efforts of the Stephenson Cancer Center.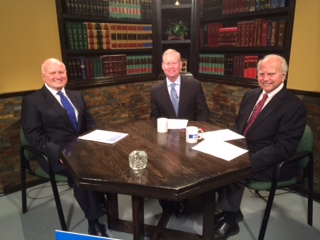 Dr. McCaffree, Mick Cornett, Kent Meyers