"Presidential Pardons" was first aired on Sunday May 6th 2001. Our Guests were Art LeFrancois, Professor of Law, Oklahoma City University and Michael Scaperlanda, Professor of Law, University of Oklahoma.


Our topics included:
What is a Pardon?
Can those who have been impeached be pardoned?
Can the President pardon himself?
What is the history of pardoning power..How did it become included in the Constitution?
How did George Washington use Pardons during the Whiskey Rebellion?
Who beside the President views Pardons before they are passed?
What procedures are followed to process a Pardon; did Clinton follow these procedures?
What offenses can't be pardoned?
"Humanity and good policy conspire to dictate, that the benign perogative of pardoning should be as little as possible fettered or embarrassed."
Clinton pardoned 141 persons, is that considered a lot?
Did money play a part in Mark Rich's pardon?
House Joint Resolution 22.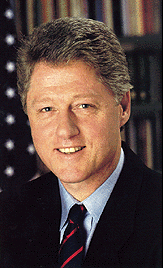 LeFrancois and Scapelanda discussed Clinton's Pardons; was he right or wrong?